Philip Sawyers: Symphony No. 3, Songs of Loss and Regret, Fanfare
Tracks
1-4 – Philip Sawyers  Symphony No.3 (38.31)
5-12 – Philip Sawyers  Songs of Loss and Regret (24.06)
13 – Philip Sawyers  Fanfare (3.47)
Artists
April Fredrick, soprano
English Symphony Orchestra
English String Orchestra
Kenneth Woods, conductor
"The importance of Woods's initiative is greatly significant, and to judge by Philip Sawyers's Third Symphony the plan has got off to an excellent start….Sawyers is a natural symphonist… This Symphony, like the song- cycle, is a masterpiece" Robert Matthew-Walker- ClassicalSource.
"The cycle is 24 minutes long, and profoundly moving, especially in these beautifully sung performances by April Frederick… "Futility," set to a text by Wilfred Owen that Britten used in the War Requiem, is stunning in its impact. This cycle should develop a life in the concert hall…It seems to be a symphony about struggle, with tension running very high in a dramatic first movement followed by an intensely personal Adagio that is the centerpiece (and the longest movement). After its Mahlerian opening, this slow movement seems to move in the direction of resistance to the turbulence of today's world…The performance, as one would expect from the conductor to whom it is dedicated, is impassioned and very well played and recorded." Henry Fogel, Fanfare
"Terrific music like this renews my faith in the symphony as a genre… a feeling of reconciliation worthy of the Mahler 10th." Don O'Connor – American Record Guide
"It's a gripping listen, Sawyers' style notable for its lyricism, even when he's in full-on Schoenberg mode. Take the symphony's ear-stretching "Adagio", its angular string leaps and fulsome scoring paying homage to Bruckner and Mahler. There are also nods to English pastoralism, though the mixture never sounds like naff pastiche. Sawyers' quirksome third movement intermezzo is unexpected and engaging, and the way in which a tonal brass chorale is incorporated into a largely serial finale is ingenious in the extreme. This isn't a glib journey from darkness to light, the music's emotional power such that you rarely reflect on whether Sawyers is writing tonally or not. Terrifically played too, by dedicatee Ken Woods and his gallant English Symphony Orchestra… Sawyers' Songs of Loss and Regret is a cycle of eight songs composed to mark the centenary of the outbreak of World War I, here heard in an arrangement for strings and soprano. Poems by Housman and Owen feature: the latter's Futility was also set by Britten in his War Requiem, of course, and Sawyers' version doesn't suffer by comparison, the whole sequence an understated, poignant delight, beautifully sung by April Fredrick." Graham Rickson – The Arts Desk
"The symphony is a gritty, often powerful work yet, though composed in 'twelve-tone pyrotechnics', those who find post-Schoenberg musical language indigestible should not have too much trouble with that or the very moving Songs of Loss and Regret. The heart of the symphony is an adagio movement which simultaneously conveys despair and consolation. The songs include music worthy to be mentioned in the same breath as Britten's War Requiem, with which its shares a setting of Wilfred Owen's Futility, and the opening Shropshire Lad setting (Into my heart an air that kills) is in no way overshadowed by more famous Housman settings – Butterworth, Gurney, VW, etc…Very fine performances, excellently recorded" Brian Wilson – MusicWeb International
"What future for the symphony in the 21st century? Kenneth Woods and the English Symphony Orchestra are on a mission to find out, with this concert the first in a project of commissions and premières. On the strength of this showing, the première of Philip Sawyers' Third Symphony, the future looks bright indeed. The work is a substantial and distinctive contribution to the genre, and it was here presented in a compelling reading, impressively disciplined and with a passionate intensity maintained across its 40-minute span." Gavin Dixon- Bachtrack. 
"….Sawyers' Third Symphony is a tremendously impressive accomplishment. If the subsequent commissions by 'The 21st C. Symphony Project' turn out to be only half as good, it will still be a cause for celebration. The ESO gave this opening instalment what was obviously a zinger of a performance, Woods' detailed direction embracing both its ambitious scale and complexity of detail; the composer, certainly, seemed dizzy with pleasure when he took his bow, and we civilians in the audience knew we had heard something special…" Martin Anderson- Musical Opinion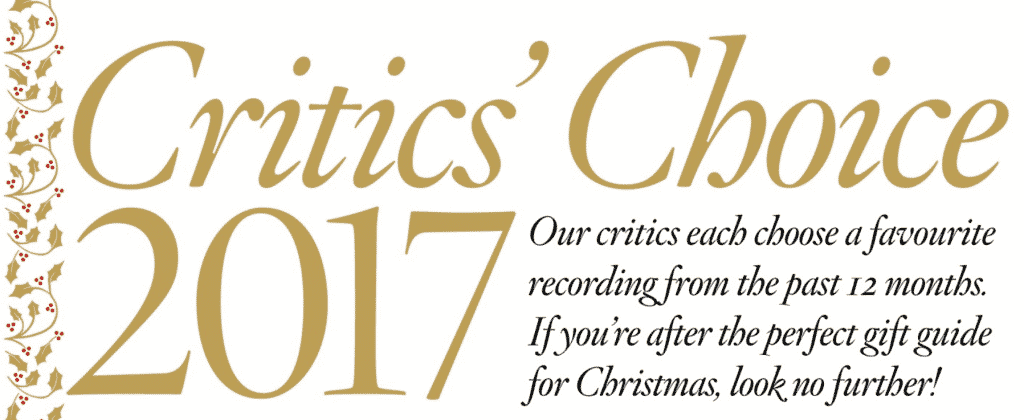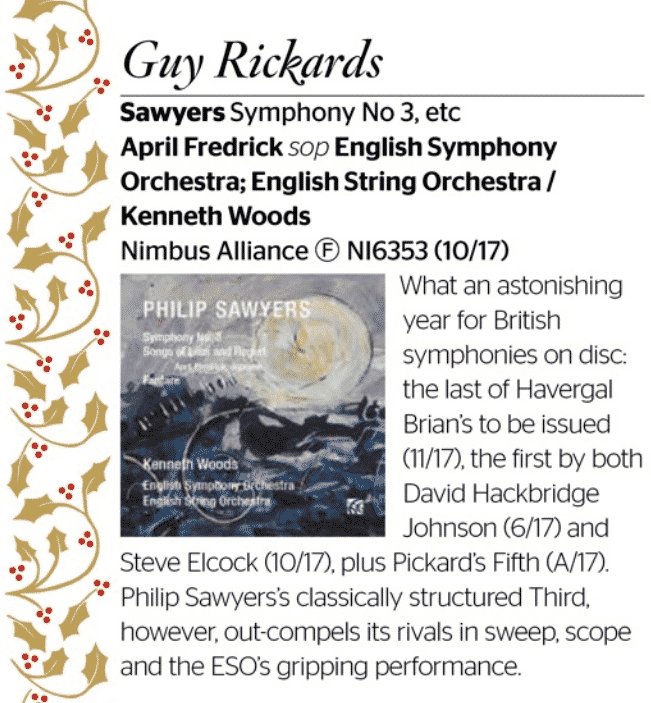 "Philip Sawyers's Third Symphony (2015) is undoubtedly one of the finest British symphonies of recent years… the long, visionary Adagio is its emotional heart, music of searing intensity, yet the expressive fulcrum lies rather in the Arnold-like Intermezzo, full of disarming charm and gentle humour, adjusting the context of the whole. The impact is overwhelming… Great music, great performances…" Guy Rickards- Gramophone
"I have no reservations in pronouncing this a very fine work indeed and one which deserves a place in the any orchestra's repertoire." Gary Higginson- MusicWeb
"Philip Sawyers's Third Symphony is a major new work from a distinctive voice in British music… a work of impressive symphonic unity and drama." Gavin Dixon- Fanfare
"Sawyers can handle the resources of a modern – or smaller – symphony orchestra to brilliant effect…this is an impressively expressive piece of sustained writing with more lyrical interludes balancing the power of the massed instrumental passages." Nick Barnard- MusicWeb
"…the journey from "darkness to light" appears in all its spectacular clarity…Woods knows how to soar in climaxes and to shape the musical phrase to the slightest detail. Needless to say, to achieve such result it is necessary that the orchestra plays smoothly and high-spirited and this is the case with the English Symphony Orchestra, from which Woods draws a committed and crisp playing." The Music Gala
"…a fabulously tidal symphony, with wild expanses of differing moods… Eventually the angular theme returns, but this time focussed, fugal. Sawyers screws his harmonic tension to tsunami point: implacable violins finally challenge the brass to one last long drawn-out chorale. Pummelled strings rise turbulent beneath great brass chords: the entire fisting orchestra soars, confident, triumphant and united at last." Alice McVeigh – MV Daily 
"FIVE STARS… his Symphony No.3 – from 2015 when he was aged 64 – is his finest work yet. It's an imposing four-movement 38 minute work tightly constructed and trenchantly argued but, in its long lyrical Adagio, reveals a passionately beating heart. The trenchancy reminds one of Robert Simpson's symphonies but the Mahler-influenced Adagio is reminiscent of another British orchestral player-turned-composer – Malcolm Arnold in his fifth symphony. Kenneth Woods is a committed advocate of Sawyers' work and he conducts the English Symphony Orchestra in an inspiring performance. The eight Songs of Loss and Regret (2013) commemorate World War I and April Frederick's lyric soprano fits them well. Sawyers' brassy Fanfare completes an album that's essential for English music enthusiasts." Birmingham Post critic Norman Stinchecomb
"Philip Sawyers's Third Symphony is a major new work from a distinctive voice in British music... The Third Symphony was an English Symphony Orchestra commission, and Kenneth Woods, conductor encouraged Sawyers to expand his orchestral palette, from the Mozart-sized orchestra of the Second Symphony, to a larger ensemble. Sawyers has risen to the challenge, producing a 40-minute work on an impressively grand scale, with the large brass and woodwind sections well-integrated into the music's conception." Gavin Dixon- Classical CD Reviews
"Profundity in any art can drain you, leave you with a feeling of cathartic emptiness, and Songs of Loss and Regret left me with just that sense that I had experienced a major statement about the human condition. If it's not a masterpiece (a word one must deploy with caution), it is at least one of the best things of its kind in a very long time…." Martin Anderson- Musical Opinion
"Sawyers's song-cycle is a masterpiece: I have no hesitation in claiming that on just the one hearing. The lack-of-variety implication that the overall title may suggest is disabused by two things: the quality of the settings, threaded by a unifying motif which appears in various forms, and the consequential sense of symphonic structure in the growing mood of loss, from numbing shock to anger at what has been lost, the emotion no longer constant." Robert Matthew-Walker- Classical Source
Additional information
| | |
| --- | --- |
| Weight | 98 g |
| Dimensions | 142 × 125 × 10 mm |
| Label | Nimbus Alliance |
| Catalogue Number | NI 6353 |
| Release Date | 6th October 2017 |
| Duration | 66.54 |
| Number of Discs | 1 |
| Barcode / UPC | 0710357635328 |